Tales from the Road
|

Member Testimonials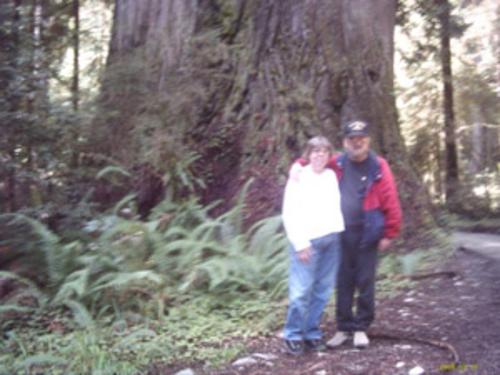 Sharon & Jerry Lemrick
Having retired in December of 2007, My husband of 45 years decided to take take our little 16 foot trailer and visit the Redwoods in California. We live in St Helens Oregon, so it was not a really long trek. It was mostly to take a trip we have long anticipated, but with both of us working and taking care of business, we were unable to get away. After careful preparations, we left our home at 10:00 in the morning on March 27. We left late in the day in an effort to avoid commuter traffic. All went well.
The weather was rainy and the wind was blowing, but we seemed to be ok. As we climbed the hills between Oregon and California, we started seeing snow. Then it got really white. We expected a bit of snow considering the time of year. My husband and I are originally from Indiana, and we are accustomed to foul weather from both states. We went slow and steady knowing we were prepared for the worst. If it got too bad, we would just pull over and stay in the trailer until a weather break. As we got closer to our destination, the weather got nicer. At 2:30 we pulled in to a station to gas up, then drove a few miles further to a rest stop to let our dog Rose have a potty break. My husband noticed smoke coming from the back of the trailer! Well it seems the pig tail hooks the trailer lights to the car had fallen down and became damaged, it shorted out taking all the battery light with it. No brake lights , no tail lights, no running lights on the trailer.
Fortunately we are life members of Good Sam Emergency Road Service! My hubby called them and they said it would be about 30 minutes. Well it only took 10 minutes. We looked up to see the welcome sight of a repair truck from Mobile Diesel Services. A very nice young man named Clayton (my hero), was very reassuring to us.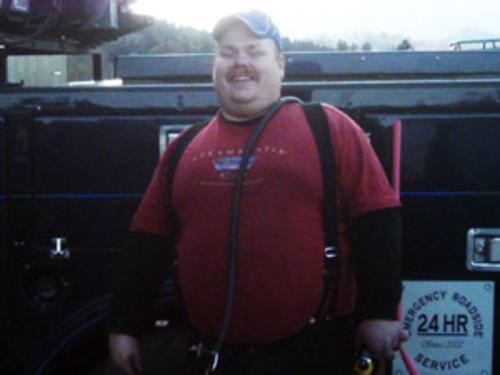 Clayton - Our Hero!
Listening very intently to my husband, and then seeing what he could do to fix the problem on the spot. He asked us if we were ok, and told us since we had no trailer lights, he would follow us to the shop where he would have us back on the road in no time. We exchanged cell phone numbers, and it's a good thing we did because my hubby missed the turn twice!. Clayton called to be sure we did not get to far a field. He was awesomely patient and understanding with us.
Finally we arrived at the repair shop and got the same treatment from all the rest of the crew there. It was very comforting and reassuring to be rescued by these guys. I felt very vulnerable until they came on the scene. Price was fair, service was fast and friendly. What more could one ask for? I told my two sons that they treated us as if we were family. It was as if we had our own boys there taking care of mom and dad, what more could one ask? Thanks boys we had a wonderful time on our trip to the Redwoods!
Will send pictures later.
Sharon & Jerry Lemrick
St. Helens, Oregon