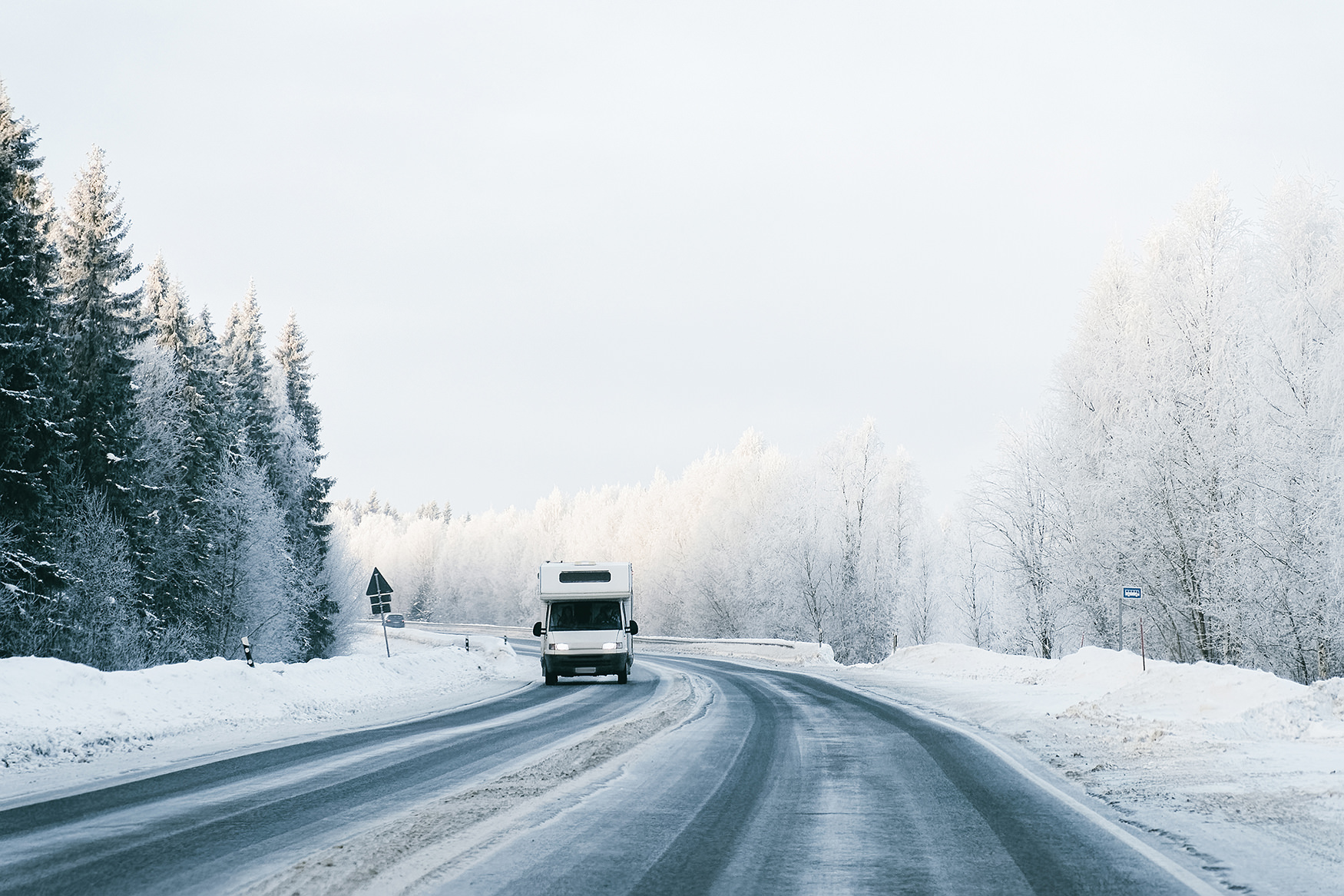 When you drive your motorhome year round, you'll run into all kinds of challenges depending on the location and season. But that's part of the fun of traveling in a motorhome! To get the most out of your adventures and stay safe while on the road, follow our tips for driving your RV throughout the year.
Avoid difficult weather by planning ahead
This doesn't mean you have to map out your trip for the next six months with turn by turn directions; spontaneity is half the fun of being on the road. But for safety's sake, check the forecast where you're staying and where you're planning to visit. If there's a threat of severe weather at your destination, stay at your current campground a little longer. If severe weather pops up unexpectedly, pull into a safe area or rest stop and wait it out.
When you can, plan your route around the weather. Camping in Florida during hurricane season or driving through the Midwest during blizzards are probably not the best ideas. Find a place with mild, comfortable weather that everyone in your group can enjoy.
Check road conditions by researching your route in advance
Google Maps is an excellent tool for planning driving routes, but keep in mind that it won't factor in details that matter when driving an RV. Your phone navigation is designed to get you somewhere quickly. That might include roads you want to avoid in an RV: narrow local roads, switchbacks, dirt streets, and more.
An RV-specific GPS system can help you plan safe routes and steer you clear of hazardous conditions that may not be suitable for your RV. You can also check your current location's department of transportation website for updated road conditions, which can help you avoid traffic or construction.
Have the right supplies on hand
What you decide to pack will vary based on where you're heading and the current weather. Use a checklist to keep your packing list organized, and determine which things are essential for your trip. If you expect cold or rainy weather, make sure to bring a warm or waterproof outfit and shoes. Going hiking to enjoy the warmth? Bring clothes that will keep you cool and protect you from insects and sunburn.
No matter where you're going, there are some items you should always carry, like a first aid kit and emergency supplies that include non-perishable snacks and fresh water.
Remember that RV driving is different
There are a few basic tips for driving your RV that apply in all kinds of weather or road conditions. These are especially important if you get stuck in poor weather unexpectedly or if you're in unfamiliar territory.
Slow down and increase the distance between you and the vehicle in front of you. Your RV is tall, wide, and long. You'll need to be extra careful when driving in less-than-ideal conditions.
Turn on your lights. Make it a habit to turn on your lights during fog, rain or snow. Many states require it. It doesn't hurt to make yourself as visible as possible to other drivers.
Don't try to drive through standing water or under a place with low clearance. If you're not sure that you'll pass safely under a bridge, or if there's suspicious standing water ahead, try to find an alternate route.
Be cautious on busy highways and areas with curves in the road. Going too fast can be harmful to you and other motorists.
There's nothing wrong with being overly cautious, especially if you feel nervous or uncomfortable. Staying alert can help you avoid costly mistakes.
Be ready for the unexpected
For coverage wherever you're traveling, no matter what time of year, invest in a Good Sam Roadside Assistance membership. From flat tires to dead batteries, Good Sam has an expert network of people that can help, no matter where you take your Motorhome or Towable RV.
Disclaimer: Motor club benefits and services provided by Americas Road & Travel Club, Inc. for Members residing in Alaska, Alabama, Utah and Virginia; and by Affinity Road & Travel Club, LLC for Members residing in all other States. Note: All program benefits and services are subject to limitations set forth in the current Member Benefit Brochures and will be sent to you upon approval of your membership.