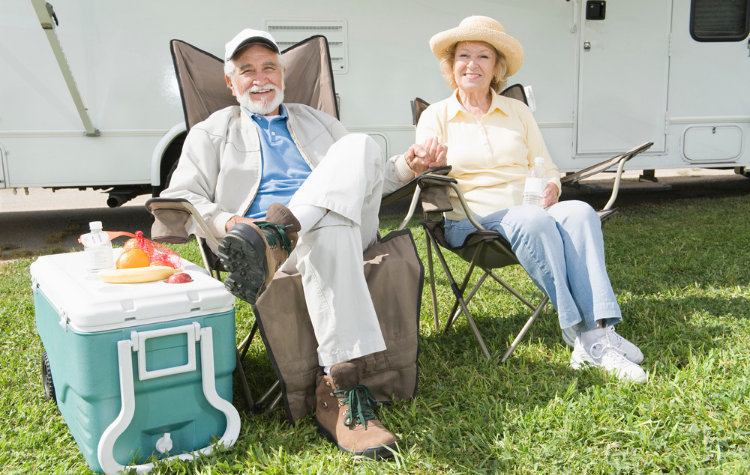 RV trips make the perfect comfortable getaway year round, and being prepared for the seasons is one of the most important parts of your travel planning process.
Winter RV Must Haves
If you're venturing out during the coldest season of the year, you'll definitely want to make sure that you and your RV are prepared for chilly temperatures.
1. Plumbing Protection
Much like houses during the winter, you want to be sure your pipes hold an above-freezing temperature to avoid bursting.
Apply heat tape or warming coils to exterior pipes and hoses
Use your internal freshwater tank versus connecting to external sources when possible
2. Batteries
Your smoke alarms and carbon monoxide detectors will become essential safety mechanisms when traveling in your RV during the winter months. Double check to make sure the batteries are new and always have extras on-hand for flashlights, lanterns, and remotes.
3. Warm Clothes and Blankets
Low winter temperatures are no fun - especially if you're caught without your jackets and winter comforters. Make sure you have enough blankets for all the beds and a few throw blankets to snuggle up on the couch with. And when you're ready to venture out into the cold, be sure you have a winter jacket, hat and gloves.
Pro Tip: The last thing you want is to be unprepared if you happen to become stranded. Flashlights, hand warmers, winter gear, extra socks, mittens, hats, tire chains, a shovel, snow boots, and plenty of extra drinking water should always be on your list of supplies when traveling in the winter.
Spring RV Must Haves
As you watch the snow melt and the world transform into a sea of green, don't forget all the mud and unpredictable weather that comes with it.
1. Cleaning Supplies
If your RV has been tucked away for the winter, it may need a good deep clean and you should make sure everything is in working order. You most likely won't need full-size containers of cleaners while you're on the road, so separate out just enough of each cleanser that you'll need, and put them into convenient travel size bottles.
2. Hot and Cold Weather Supplies
Spring is notorious for being unpredictable. One day you could see 70 degrees, the next you may see snow. It's always a good idea to be prepared for both occasions while traveling. Make sure you have plenty of blankets for cold nights but don't forget the sunscreen just in case the temps jump up.
3. Mud & Dirt Supplies
April showers, bring May flowers… and mud. Stack towels by the doors, be sure to have doormats, bring plenty of rain gear that is easily wipeable, and make sure you have clothing for all types of weather.
Summer RV Must Haves
Being prepared for the scorching hot sun on your summertime road trips will have you doing a 180 from that winter packing list. Ditch the heavy clothes and replace them with sunscreen, ball caps, swimsuits, and a bottle of bug spray.
1. Insect Repellant
Mosquitoes, bees, flies, gnats… the list goes on. Get them out of your hair and enjoy your summer days by packing up your RV with insect repellant, citronella candles, and double checking the screens on your windows and doors before you take off.
2. S'mores Fixin's
Summer is the perfect time for campfires - and that means it's the perfect time for s'mores. Grab those toasting sticks and be prepared with marshmallows, chocolate and graham crackers. If you're feeling festive, switch out the plain chocolate for different candies that you can melt with your marshmallows.
3. Games
Whether it's a deck of cards, a cribbage set, or your grandson's favorite board game, make sure you have some sort of fun entertainment for those long summer days. You didn't drive hundreds of miles away from home just to sit inside and watch TV, make the most of your time at the campground.
Fall RV Must Haves
Aside from a camera to capture the beautiful fall foliage, here are a few things you shouldn't forget on your last hoorah before the snow begins to fall.
1. Lanterns
Those last few warm nights can beckon you to sit outside, but as the season changes and the sun lowers earlier in the evening - it's a good idea to have some lanterns handy.
2. Maps
Just in case Google maps decides to stop working or send you on an unplanned adventure, it's good practice to have a printed map or map book on hand. This is especially true in early fall as construction projects may be finishing up and roads may be closed or detoured.
3. Heavier Blankets
The nights will start to get much cooler, and if you don't want to run your generator through the calm evenings spent in the desert or mountains, just prepare by packing some warmer sleeping gear.
Pro Tip: A lot of campsites reduce their prices come fall, so keep an eye out for these awesome deals, and you'll be able to save some money by pre-planning your stays.
Most Importantly, Invest in Roadside Assistance
You won't be alone if something ends up going wrong no matter the season or time of year. Whether you find yourself with a flat tire in the spring or you can't get the engine to turn over in the winter; whatever the situation, it's no big deal if you have Good Sam Roadside Assistance on your side.
Our extensive network of RV towing resources and expert mechanics will get you up and running and back on the road in no time. Best of all, of our roadside assistance plans have got you covered, no matter what season you decide to travel.
Disclaimer: Motor club benefits and services provided by Americas Road & Travel Club, Inc. for Members residing in Alaska, Alabama, Utah and Virginia; and by Affinity Road & Travel Club, LLC for Members residing in all other States. Note: All program benefits and services are subject to limitations set forth in the current Member Benefit Brochures and will be sent to you upon approval of your membership.