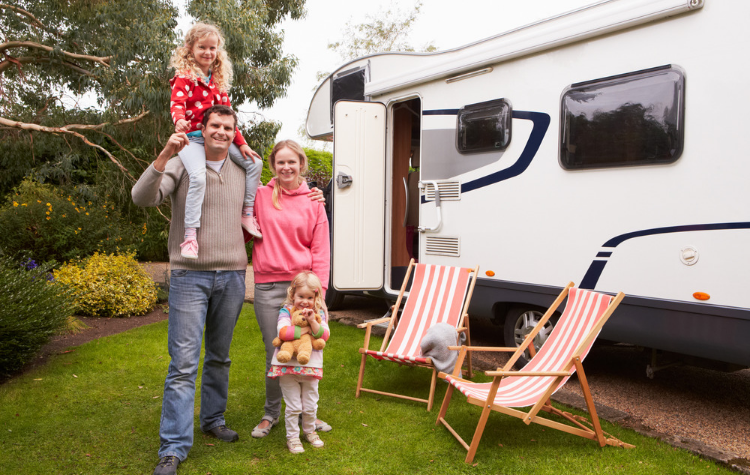 When you go camping, you want to make sure you have the right equipment to enjoy your experience: a tent, sleeping bags, a flashlight, and so on. The same goes for when you're ready to hit the open road in your RV. We've put together an essential checklist for traveling in your RV so you know what you'll need and which essential home and utility items should come on the road with you.
RV Essentials
Below is a list of essential supplies every RVer should bring with them, but make sure to include any other items that meet your specific family needs
Safety and first aid supplies
Accidents happen on the road, especially if you're adventuring. Make sure to bring:
Bandaids
Antibiotic ointment
Hydrogen peroxide
Gauze and cotton balls
Cotton swabs
Allergy medication
Pain relievers
Prescription medications
Thermometer
Hot or cold compresses
RV equipment
Your RV comes with a lot of components, so make sure that you have everything you need to keep it running smoothly. This includes:
Jumper cables or battery starter
Emergency road kit
Flashlight and batteries
Sewer kit
Leveling blocks
Wheel chocks
Extension cords
Duct tape
Matches or lighter
Extra motor oil and transmission fluid
Fire extinguisher
Work and disposable gloves
Toolkit (including a drill, wrenches, screws, etc. that fit your RV's interior and exterior fixtures)
Shovel
Tarp
RV registration and owner manual
Insurance papers
Road maps
Roadside assistance ID or paperwork
Home and Kitchen Supplies
When you're putting together your RV kitchen supplies, it helps to make a meal plan before you hit the road. Then add what you think you'll need so you don't bring too much or too little. If you're going on a short weekend adventure, you can probably skip other home items, like laundry supplies.
Kitchen and cooking supplies
Can opener
Water bottles
Plates, bowls, and cups
Knives and utensils
Napkins
Tupperware
Plastic wrap and foil
Pots and pans
Scissors
Hand soap
Towels
Dish soap and sponges
Trash bags
Paper towels
Disinfecting wipes or cleaning spray
Broom and dustpan
Bed and bath
Bedsheets and blankets
Pillows
Sleeping bags
Towels
Laundry bag and detergent
Quarters for laundromat
Toothbrushes, toothpaste & floss
Shampoo and conditioner
Soap or body wash
Hand soap and lotion
Lip balm
Shaving supplies
Insect repellent spray
Sunscreen
RV-friendly toilet paper
Holding tank chemicals
Feminine products
Hairbrushes and combs
Before You Depart: The Walk-Around Checklist
Don't forget to walk through the inside of your RV and around the perimeter before you leave! It takes only a few minutes and can save you from running into trouble on the road. Remember to check your RV's owner manual and include any listed steps there, too.
Inside your RV, make sure:
Cabinets are closed and locked
The fridge is closed and secured
Gas pilot lights are shut off
Furnace and A/C are off
Lights and fans are off
Extension cords are disconnected and stowed
TV antenna or satellite dish is lowered
Loose items are stowed or secured
Windows and ceiling vents are secured
TV and shelf are stowed properly
Inside weight is evenly distributed
Internal doors are closed
Outside your RV, check to see that:
The awning is secured
Slideouts are brought in
Wheel chocks are removed and stowed
Safety restraints are buckled
Shore power cord is disconnected and stowed
Drain/fill hoses are capped and stowed
Black and grey tanks are dumped and reset
Jacks are up and locked
Levelers are stowed
Entry steps are retracted
Water heater and water pump are off
Tires look properly inflated
External doors and panels are locked
Then, do a final walk-through to ensure:
All your belongings are inside
Trash is removed from the campsite
Your gas tank is full
Fluid levels are good
Mirrors and tires are ready
Brake lights and turn signals are working
The hitch is locked and secured
Your parking brake is disengaged
Everyone is ready to go (and in the RV before you drive off!)
Make a List and Check It Twice
Of course, this is not an exhaustive list that takes into account each of your RV's amenities; remember to adapt this checklist to suit your own needs. Depending on how many people you have coming with you, there may be more items to bring (diapers for babies, wheelchair ramps and accessories for disabled family members, etc.). But by using our checklist as a base for your own personalized lists, packing for your adventures will be a breeze.
Just keep in mind that even with a checklist, you may forget something important. To be as ready as you can be, have your Good Sam Roadside Assistance coverage info handy in case you need a helping hand while on the road. Good Sam can help when something doesn't go to plan and will keep you covered all year round.