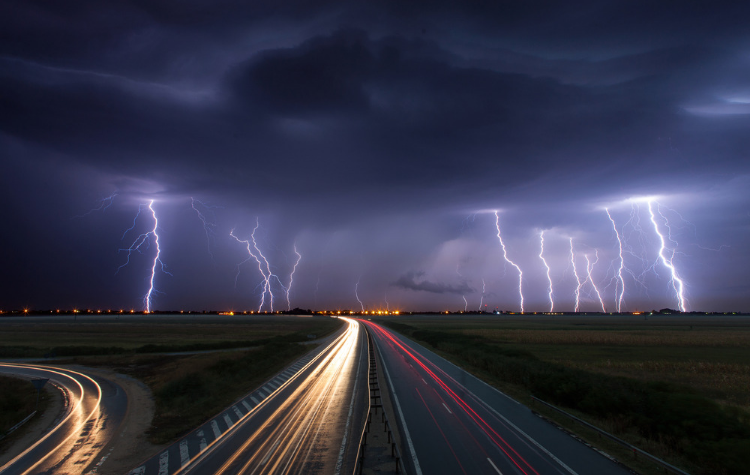 Even if you've been keeping an eagle eye on the weather along your travel route, you and your RV can still end up stuck in the middle of weather-related chaos. Check out some RV tips for the safest way to handle some of the most severe weather emergencies that Mother Nature has been known to send our way.
Weather Emergency RV Tips
Before you head out on any trip, make sure your RV is in prime working order. Small issues that may go unnoticed or ignored in good weather can turn into big problems in severe weather. Also, make sure you have enough fuel and other fluids to keep your RV running for the long haul.
Your next step is to know what to do during a specific emergency situation. These RV tips can help.
Have a Weather Emergency Plan
One of the most important things you can do, no matter what the weather, is to be fully aware of your surroundings and location. That way you can provide an address or landmarks if you do need to call for help. Being aware of the terrain can also help you pinpoint the highest ground during a flood as well as nearby shelters or locations where you and your family can find safety.
Additional tips from RV 101 include:
Get a weather radio receiver and use it
Monitor the weather, ensuring you know the signs of incoming bad weather
Make a note of the nearest shelter when you park your RV for the night
Brief your family and traveling companions on what to do if bad weather hits
Prepare an emergency kit that contains things like flashlights, batteries, first-aid kit, bottled water, pet supplies, rain ponchos and other essential emergency items
How to Protect Yourself and Your RV
While you can't control the weather, you can protect yourself, your family and your RV from potentially dangerous situations with an easy solution. Good Sam Roadside Assistance coverage extends to all of your vehicles and your family members. Compare Good Sam Roadside Assistance plans today and sign up for peace of mind.
Disclaimer: Motor club benefits and services provided by Americas Road & Travel Club, Inc. for Members residing in Alaska, Alabama, Utah and Virginia; and by Affinity Road & Travel Club, LLC for Members residing in all other States. Note: All program benefits and services are subject to limitations set forth in the current Member Benefit Brochures and will be sent to you upon approval of your membership.