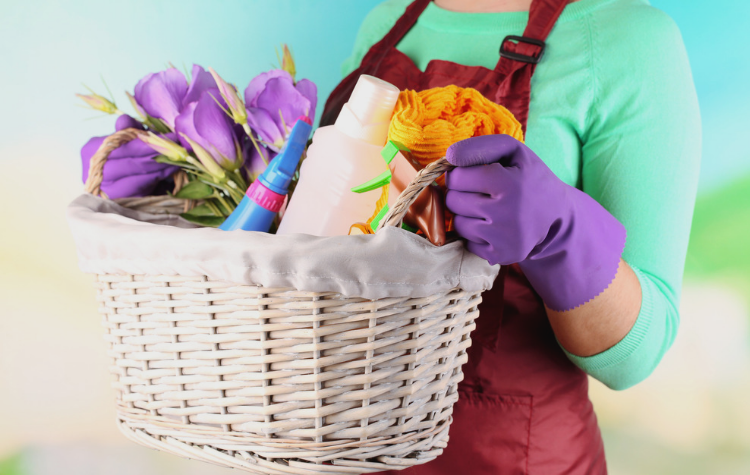 Giving your RV a good spring cleaning is the perfect way to get ready for the busy camping season. Below, you'll find some easy and fun RV spring cleaning tips to keep your rig looking and running great. Gather your cleaning supplies, crank up your favorite tunes, and get ready to clean!
Start by airing out your RV

This is an easy and comfortable place to start. Lift the shades and open all the doors and windows to your RV and let the stale air out. Let your RV breathe while you clean it out, especially if you're using strong-smelling cleaners. Opening all the windows and doors may also help showcase a few areas where dirt and dust are collecting - that you might not have otherwise seen.

Remove and clean any fabrics, linens or decor

You can give some items a quick shake in the fresh air, like throw pillows and floor mats. You can also wash these items, along with shower curtains, draperies, bedding, and towels. Next, remove these items from the RV before you dig in and really begin cleaning; this will prevent dust and dirt from getting trapped in these surfaces as you clean.

Dust all surfaces from top to bottom

Use a long microfiber duster to reach places like cupboards, fixtures and ceiling vents. Dust surfaces like countertops and tables with microfiber cloths. Remember, it's always more efficient to clean from the highest areas in your motorhome to the lowest. When you work from top to bottom, you save yourself from having to go back and dust a section again. Lastly, check your air conditioner and fan vents for built-up dust and grime.

Wipe all cupboards, drawers, and windows

You're likely to find dirt and crumbs in all the cabinet spaces, especially in the kitchen and bathroom. Wipe out these spaces with a warm, damp washcloth or moistened paper towel. Spray and clean the inside of your windows with glass cleaner while being sure to inspect the condition of your windows and seals as you go.

Clean and disinfect your kitchen appliances

First, check for any expired foods that may need to be tossed. If that ketchup has been in there for a few years, just take our word for it and replace it. If your fridge needs to be thoroughly cleaned, begin by defrosting the freezer and then wiping down the inside with warm soapy water or disinfecting wipes. As for the stove and oven, you can clean them with a multipurpose cleaner or soap and water. For tough spots, use a paste of baking soda and water, or a degreaser if necessary.

Tackle the bathroom

In addition to the kitchen, your bathroom may be one of the most frequented areas in your RV. First, spray your shower and toilet with cleaner and allow it to soak for a few minutes. While the cleaner sits, organize the bathroom cabinets and wipe out the sink. This is an excellent opportunity to toss any expired toiletries, medicine, or makeup items as well as check the status of supplies in your first aid kit. After about 10 to 15 minutes, scrub the shower and rinse. Lastly, scrub the toilet bowl with a toilet brush, wipe down the exterior with disinfecting wipes, and add an air freshener for that undeniable scent of cleanliness.

Vacuum and mop the floors

Now that the surfaces in your RV are clean, finish cleaning the interior by vacuuming and mopping (if needed). It's always best to leave the floors and lower surfaces until you've already dusted. Remember what we talked about above, cleaning top to bottom. This is so you aren't brushing dust back down onto your freshly cleaned floors. As you vacuum and mop, be sure to move any furniture and rugs to get underneath. Vacuum sofa cushions, chair cushions, tight spots, and corners with your vacuum attachment.

Wash your RV's exterior with care

When the interior is sparkling clean, you might want to give the exterior of your RV a good wash, too. There are different techniques and products you can use to wash the exterior, but if you prefer to go DIY, you can use baby shampoo and vinegar to clean it. This ultra-gentle combo, when diluted with warm water, won't leave a film or strip the gel coat of your home on wheels.

Lastly, resist the urge to use dish detergent to wash your rig. Although detergents like Dawn can cut through grease, they can also strip your RV gel coating and leave a film that sticks to the exterior. This film can make your rig look dull and potentially cause the gel coating to deteriorate faster than it should.

Again, this is a great chance to check for any damage or leaky seals as you make your way around your RV.

Finish by checking your major systems

Spring cleaning is a great time to refresh your RV for a new season of adventures, and it's also an excellent time to do annual checks to make sure your RV is safe and operational. Now's the time to:

Check RV's battery levels
Flush and sanitize your water tanks
Check the condition of your tires
Check the fluid levels, gauges, lights, and connections
Check or replace air conditioning filters
Double check fire extinguisher dates and pressure levels
Check and change the batteries in your smoke and CO2 detectors

Make sure you're covered

Finally, check that your registration, insurance, vehicle emissions tests, and Good Sam Roadside Assistance membership are up to date. It only takes a few minutes to verify that your paperwork and roadside assistance membership haven't expired, which can be a pain if you run into problems on a trip. Once your RV has been cleaned and inspected inside and out, you're ready to hit the road!