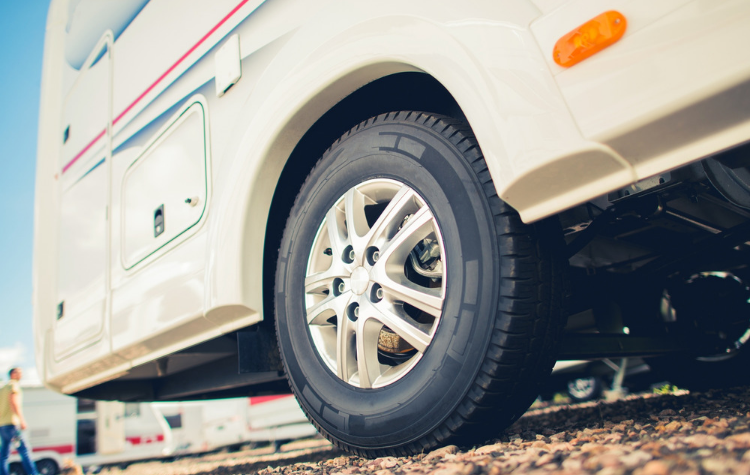 You're driving down the road, excited to get to the next stop on your road trip when you hear it. Thump. Thump. Thump. You pull to the side of the road and see that your RV has a flat tire. After a few choice words of frustration, it's time to decide the next steps.
To facilitate those next steps, we're sharing a few tips on how to care for the tires of your fifth wheel or motorhome to help prevent a flat as well as some advice on who to call when you need help.
Prevention Is Key
Sometimes, through no fault of our own, a flat tire just happens. However, in most cases, a flat tire is the result of road debris or wear and tear on your tires. To make sure that your RV is as safe as it can be, check the following before you leave, as well as frequently throughout your trip:
The tread depth. Your tires' tread depth should be at least 6/32", which is deeper than a regular car's tires. Talk to a local RV tire retailer if you're not sure about your tire tread.
Wear and tire on the sidewalls. If the sides of the tires are showing cracking and heavy wear, it may be time to get them replaced. RVs that aren't frequently used or are very heavy are more prone to sidewall weathering.
Tire size. You always want to be sure that your fifth wheel has to correct size tires. If your tires are the incorrect size or are inconsistent in size (say 1 tire is larger than another) that can cause a multitude of issues - inconsistent wear patterns, loss of gas mileage, and even a blowout.
Recommended PSI. Make sure that your RV tires are inflated to the proper pressure. If the recommended PSI isn't indicated on the tire itself, check the manufacturer for the suggested pressure.
Evenly distribute weight. It should come as no surprise that if the weight in your RV is not evenly distributed, this can cause undue stress on your RV tires. It's always recommended to check weight distribution and to be sure that your gross vehicle weight does not exceed the gross vehicle weight rating.
When they should be replaced. Factors like climate, how often your RV gets used, and how often your tires are rotated can affect the life of your tires. If you get new tires, make a note of the date so that you're aware of when they should be replaced again.
Prevention is critical when it comes to maintaining your fifth wheel and RV tires. However, flats can still happen. That's why it's important to know who to call when you need help.
Call Roadside Assistance if You Have Doubts
Changing a tire on a fifth wheel can be intimidating and dangerous, especially if you're a new RV owner. That's why it's a great idea to have a roadside assistance plan that can help while you're on the road. You'll want to look specifically for an RV roadside assistance plan, like Good Sam, that offers flat tire service as well as other services like battery jumpstarts and emergency fuel deliveries.
Having a dependable roadside assistance plan with Good Sam will give you peace of mind in case you end up with a flat tire. You can also buy our Tire and Wheel Protection Plan, so that you don't have to worry about the out of pocket cost of replacing a tire due to a road hazard. Drive with peace of mind knowing that you have nationwide access to flat tire repair, tire replacement coverage and more!
Lastly, even the best drivers and RV owners have to deal with flat tires, running out of gas, or getting locked out of their car. Our RV plans cover these roadside services and so much more, like towing, replacement coverage, and wheel repair. Just give us a call, and we'll get you back on the road in no time flat. (Eh, see what we did there?)
Disclaimer: Motor club benefits and services provided by Americas Road & Travel Club, Inc. for Members residing in Alaska, Alabama, Utah and Virginia; and by Affinity Road & Travel Club, LLC for Members residing in all other States. Note: All program benefits and services are subject to limitations set forth in the current Member Benefit Brochures and will be sent to you upon approval of your membership.