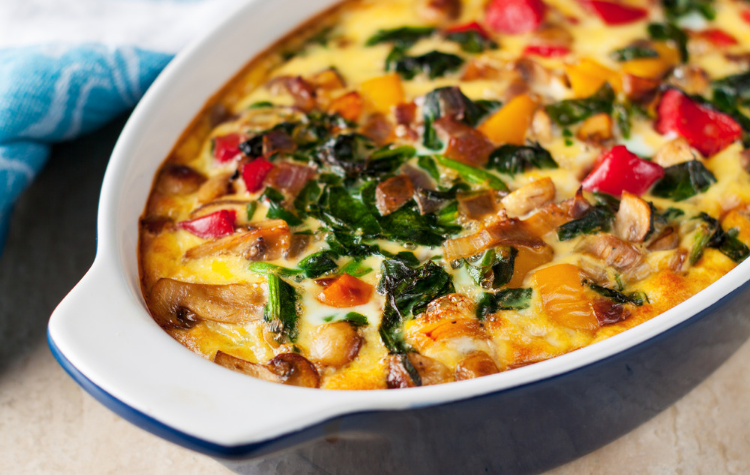 Cooking delicious meals on the road is easier than you think. The best RV meals don't require a bunch of complex ingredients; all you need is an adventurous spirit (which you already have - you're traveling by RV!) and a little creativity. Whether you cook over an open fire or you have an RV kitchen, try one of our favorite quick, easy RV meals today!
Baked Breakfast Casserole
The best thing about a breakfast casserole is that they're always tasty no matter what ingredients you have on hand. One of our favorites is a combination of eggs, diced potatoes, crumbled sausage, and cheese.
In an oven-safe baking dish, add:
•   2 cups of diced potatoes
•   4 crumbled sausage links
•   6 to 8 eggs
•   1 diced onion
•   1 to 2 bunches of basil
Season with salt, pepper, paprika, and garlic powder. Bake at 350? for about 15 to 20 minutes until the eggs reach your desired consistency. Serve with fresh herbs and salsa.
Campfire Breakfast Casserole
No RV kitchen? No problem. You can also make a baked breakfast casserole in a dutch oven over an open fire. Cook your potatoes, sausage, and onion over the flame, then add your eggs and basil. Mix well. Then, remove your dutch oven from the fire, but still in the vicinity of its heat (the sand next to a fire usually works well). Let your casserole cook for about 25 minutes, checking at around 15-20 minutes to make sure the heat has started cooking the eggs. Enjoy!
Stir-Fry
Stir-fries are simple, delicious and healthy! Pick some veggies, your favorite protein, and some sauces or seasonings that are probably already in your pantry. There's always the classic combination of chopped beef, broccoli, sliced carrots, green onion, and snap peas, but you can use any ingredients you prefer.
Start by cooking your protein in vegetable oil in a large skillet over medium-high heat for a few minutes. Once it's browned, make a well in the center of the skillet and add your veggies. Cook and stir for a few more minutes. Add salt, pepper, sesame seeds, and soy sauce. Once the veggies are tender, it's ready to serve!
Campfire Stir-fry
If you're cooking over a campfire, use your largest cast iron skillet or pot to cook all your ingredients so you have plenty of room to stir. Follow the same directions from above - cooking your protein first then adding the veggies and sauces or spices. Lastly, make sure to remove your pan from the fire once you're done cooking so that nothing burns!
Slow Cooker Soup or Chili
When you've got a busy day of outdoor adventuring ahead of you, whip up a batch of slow cooker soup or chili in the morning and it'll be ready when you return. For a Southwestern style dish, try a chicken tortilla soup recipe, which can be made from canned or dried ingredients. You may also like white chicken chili, chock full of white beans, green chili peppers, corn, and celery. If you have chicken broth and canned or fresh veggies, you can get creative and make your own slow cooker soup recipe.
Mess-Free Campfire Dessert
This mess-free marshmallow and fruit cone is perfect for summer nights, cooking on a campfire next to your RV. You'll need just a few simple ingredients and some tin foil to pull this off.
Ingredients:
•   Waffle ice cream cones
•   Chocolate chips
•   Mini marshmallows
•   Diced fruit like strawberries or bananas
Stuff your waffle cone with your preferred amount of chocolate chips, marshmallows, and diced fruit, then wrap the entire cone in tin foil. Place the foil-wrapped dessert on the grate over your fire pit (avoiding direct flame - stay near the coals or off to the side of the fire), rotating every few minutes. In no time flat, your cone should be ooey-gooey and ready to eat. Unwrap carefully and enjoy!
But First: Make Sure Your RV Kitchen is Ready
RV cooking can be easy and fun, but it's important to remember cooking safety, especially when you're on the road. Check your electrical systems and kitchen appliances periodically to make sure they're in good condition. If you prefer to cook over an open fire, make sure your fire extinguisher and smoke detectors are up to date. And of course, before you hit the road be prepared with an RV-specific roadside service plan in case of a roadside emergency. Once you've checked all the boxes, you can hit the road knowing you'll be well-fed and safe!
Disclaimer: Motor club benefits and services provided by Americas Road & Travel Club, Inc. for Members residing in Alaska, Alabama, Utah and Virginia; and by Affinity Road & Travel Club, LLC for Members residing in all other States. Note: All program benefits and services are subject to limitations set forth in the current Member Benefit Brochures and will be sent to you upon approval of your membership.