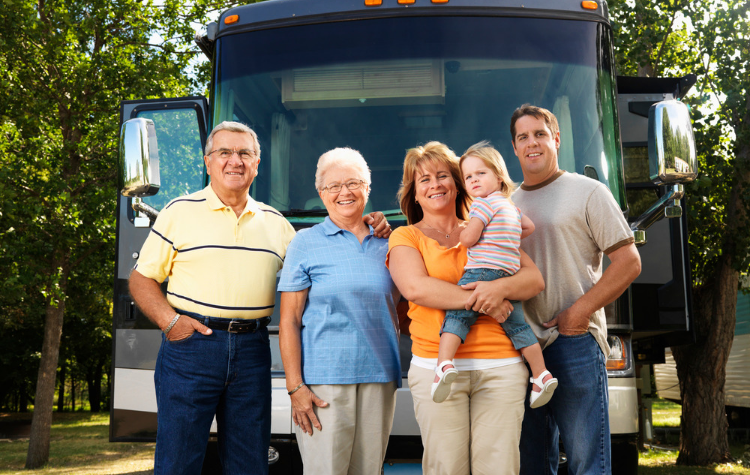 As a new RV owner, you're probably excited to hit the open road and start exploring. But new RV owners need to be prepared for when things don't go quite as planned. That includes knowing what to do if your RV breaks down and which towing mistakes can be dangerous and costly. The good news is: by doing your homework, being prepared, and planning ahead, you can avoid these common RV towing mistakes and enjoy your trip without worry.
1. You don't know your RV inside and out
Before taking your RV on a trip, you must be prepared to not only drive your rig but also know your RV from top to bottom. One of the biggest reasons an RV needs a tow is because the driver doesn't realize something is wrong. That's why you should know:
how your RV drives
how it handles
what all of the lights, symbols and indicators on your dashboard mean
drivetrain specifics
your RV's height, length and weight specs
manufacturer requirements related to service and towing
what kind of fuel your RV needs
If you overlook anything, you could find yourself stranded on the side of the road. Trust us; there's no such thing as knowing 'too much' about your RV.
2. You don't inspect your RV (before and after you break down)
You should always walk around your RV to make sure it's ready for operation - and this doesn't just mean before you leave on an adventure. You should be checking your coach DAILY for anything that seems out of the ordinary. Spending just a few extra minutes visually inspecting your RV might save you a lot of trouble on the road, especially if you break down.
If you do break down, it's important to do a walk-around to make sure there is nothing visibly wrong with the RV - but only if it is safe to do so. This will help you provide more accurate information when you call a roadside assistance provider and can warn you if something is very wrong.
Make a walk-around checklist. Be sure to:
Check that your lights, turn signals and brakes are working
Close and secure the fridge, cupboards, windows, and compartments
Put your TV antenna or satellite dish away
Bring in your slide-outs and awnings
Visually inspect all tires and check the tire pressure
Pick up the wheel chocks
Disconnect and store all cords, connections and hoses
Remember, only exit your RV if you're in a safe, secure location. If you're on a busy highway or stuck on a road with limited visibility, remain in your RV and wait for assistance. Safety first!
3. You didn't plan your route in advance
Planning your route in advance goes hand-in-hand with ensuring that you have a safe and worry-free trip. It's easy to rely heavily on Google Maps to plan your route, but remember that your phone navigation probably won't take important road safety details into consideration.
Your suggested route might include winding mountain passes, narrow roads, unpaved frontage roads, or bridges with low clearance — and it might take you miles away from main highways and arterials. This can add up, especially since many independent tow companies charge per mile or per hour that it takes to get to where you are (and not every tow company is equipped for an RV).
To avoid getting stuck in tricky areas or causing damage to your RV, make sure to plan ahead.
4. You don't drive as carefully as you should
New RV drivers often forget that they're driving a much larger, much heavier, and much more complex vehicle than their family sedan. The result? Driving too fast and not paying attention to debris, potholes, or weather conditions that could potentially cause problems. New RV drivers may also overlook signs that their RV is in distress.
It's important to be vigilant while driving your RV. Check your mirrors often and be aware of any odd smells like burnt rubber. Listen to your rig while driving for common sounds like flapping, rattling, or scraping, which can indicate something is loose or dragging. If any warning signs arise, pull over to a safe area as quickly as possible and make sure you're completely off the road. Leaving your rig sticking out into traffic can be incredibly dangerous for you and other motorists.
5. You don't stay calm when your RV breaks down
When you feel your RV lose power, start to smell, or make weird noises, it can be easy to lose your cool — especially if you're in a place where you can't pull over. That's why it's important to always pay attention to your vehicle and to map a route that makes these sort of emergencies easier to handle.
When your RV is in distress, do your best to pull over to a safe location. This will keep you, your passengers and your RV safe while also making it easier for a tow truck to maneuver to an angle at which they can attach to your vehicle. Your safety comes first so stay calm, put on your hazard lights, stay in your vehicle (away from traffic) and wait for help.
6. You don't have adequate RV roadside assistance
The biggest mistake a new RV owner may make is assuming that their roadside assistance plan will cover their RV towing costs. Many things can go wrong on the road and even the most careful RV owners end up with flat tires and dead batteries. As a new RV owner, your first breakdown or flat tire can be scary. What do you? Who do you call? You should know well before you ever hit the road and have your roadside assistance information handy for any emergency that may arise.
Need a tow?
If your RV does break down on your next grand tour, it's important to have a number you can call. After all, the RV won't move itself. Unfortunately, Googling the closest tow company won't likely solve your problems as most tow companies are not equipped for RVs. That's why, as part of your RV ownership, you should find RV roadside assistance that can help get your RV towed from anywhere.
Good Sam Roadside Assistance covers specialized services like RV and fifth wheel towing (when other roadside assistance programs may not). We cover the cost to tow your RV and/or auto to the nearest service center. See what other services we offer in the RV plans section of our site and happy travels!