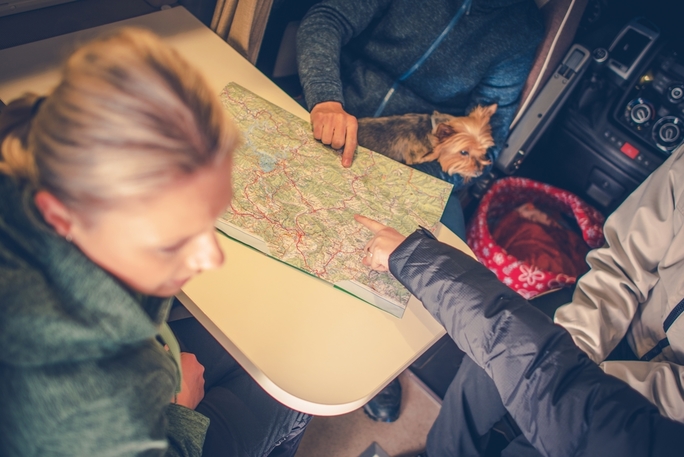 At Good Sam Roadside Assistance, our experts have decades of experience on the road. We know the preparation that goes into getting ready for your travels, and that's why we're here to make your life a little easier. Use our tried and true tips and plan your next cross-country RV trip with ease.
1. Research Your Route
It may sound obvious, but have you thought about the path you're taking? Do all the roads and tunnels on your route have a high enough clearance for your RV? Map your route out ahead of time and know exactly what you're getting into. Plan your stops in advance if possible, so you know you can easily maneuver through parking lots or up to a gas pump.
2. Prepare to Be Out-of-Service
When you're driving cross-country, you're bound to hit a few areas where cell service and wi-fi are non-existent. Invest in an up-to-date map and bring hard copies of your itinerary, hotel reservation, pre-paid confirmations, and even emergency contact numbers. Download your favorite shows, music, and podcasts ahead of time so you can access them without service, not to mention protecting yourself from using all your data.
3. Bring a Stash of Cash
Credit cards may the popular way to pay these days, but when you're traveling cross-country, cash is still king. There are still plenty of establishments that are cash only, as well as toll booths that only accept exact change. In a worst-case scenario, you could misplace your wallet - and your cards along with it. Always have cash available when traveling by RV.
4. Entertain Yourself
The U.S. is a beautiful country, but there's only so much staring out the window one can handle. Bring books, cards, board games, music, or as mentioned above - download media ahead of time to get you through the downtimes.
5. Bring Food!
Of course it's nice to plop down in a diner booth after a long day on the road, but if your trip lasts more than a few days, dining out will start to wreak havoc on your health and your wallet. Pack food that's easy to cook in an RV or open fire - if you can pre-freeze meals, that's a plus! Minimize the number of pit stops you take during the day by packing snacks and bottled water.
6. Charge Your Devices
Charge your devices before your trip, and at every rest stop if possible. Invest in an external solar charger before your trip so you can be fully charged wherever you go.
7. Don't Go Anywhere without RV-Specific Roadside Assistance
Roadside assistance can make all the difference if you run into trouble on a cross country RV trip. Good Sam offers roadside assistance packages designed for the unique issues that RV travelers face. With Good Sam Roadside Assistance, you can travel worry-free. Planning for a big RV trip can seem like a daunting task, but with the largest network of RV-specific providers in the country, Good Sam RV Roadside Assistance has you covered in your time of need.