GOOD SAM ROADSIDE ASSISTANCE
CORPORATE DISCOUNT ENROLLMENT
Enroll now to get great

COVERAGE

and

VALUE

for less!
Good Sam Roadside Assistance is a program that keeps drivers and vehicles protected in case of a roadside breakdown. Individuals will receive a drastic discount off the regular price of membership which is less than 1/2 that of our competition.
AAA*
Who is covered?
Individual + Family Options
Member + Additional Associate Option
What vehicles are covered?
All Autos, SUVs, Pickups, Vans, and Motorcycles
All Autos, SUVs, Pickups, and Vans
Must upgrade to include Motorcycles
Unlimited towing to nearest repair center?
Unlimited roadside assistance?
Unlimited usage per year?
Automotive and travel discounts?
Coverage for personal vehicles used for business?
Enter your promo code to see your offer
+ $85 additional EACH Associate Member*

Good Sam Roadside Assistance Benefits Include:

Unlimited distance towing to the nearest service center

Coverage includes Individual with Family Coverage Option

Flat tire service, emergency jump starts, fuel and fluids delivery, lost key service

Coverage in U.S., Canada, Mexico, Puerto Rico, and US Virgin Islands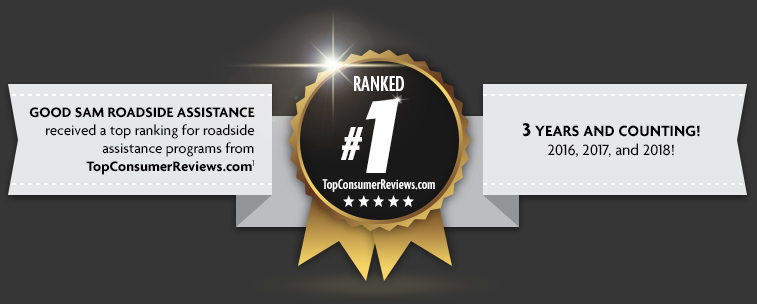 1 According to TopConsumerReviews.com, available on TopConsumerReviews.com published on 10/19/2017.